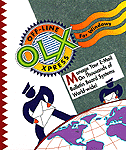 Off-Line Xpress for Windows
Off-Line Xpress (OLX) is an off-line mail reader for bulletin board system (BBS) mail. This utility allows the user to download mail from any BBS that supports the QWK standard and read the mail off-line. OLX saves money by shortening long-distance toll charges and maximizes online time for other uses.
Built-in spell checker with 124,000 word dictionary
Internal archiver/unarchiver
64K message editor
Internet compatible with up to 255 characters for To, From, and Subject fields
Address book
Powerful seach engine
WAV sound support
UUDECODE for converting files from Internet messages
In and Out Boxes for personal mail
Trial Version
Download a fully functional OLX for Windows 3.x Trial Version
If you'd like to try OLX for Windows 3.x FREE for 30 days, download it here. If you like it, call the number below and buy the unlock key for $25. If you'd like "hold-in-your-hands" product with installation disks and manuals, you can order it for $50 plus shipping and applicable tax. Call us today at (305) 248-3204 to order OLX for Windows 3.x using your Visa, MasterCard, American Express or Discover card.